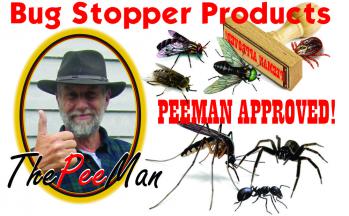 One of the most frequently asked questions to the PeeMan over the years has been "do you have anything for bugs?" Now, finally the answer is "yes!" For over 30 years, PredatorPee® products have been allowing people to use the natural scent of predator urine to create the illusion that a predator is nearby and to send a message of fear to unwanted animal pests.
Although biting, stinging and crawling insects do not respond to urine the way animals do, they do respond to other natural scents, man-made confusion scents and visual elements. We have put together a line of insect repellents and natural bug deterrents that are as unique as PredatorPee® itself.
We have insect repellent products to repel mosquitoes, blackflies, no-see-ums & gnats. Want to stop problem deer flies, horseflies, yellow flies, cleg flies, greenheads from bothering you? We have the solution for all biting flies. Want to get rid of ants and spiders? We have the all-natural products that work! See all our insect and bug problem solving products below –
All PeeMan Approved and 100% Guaranteed!