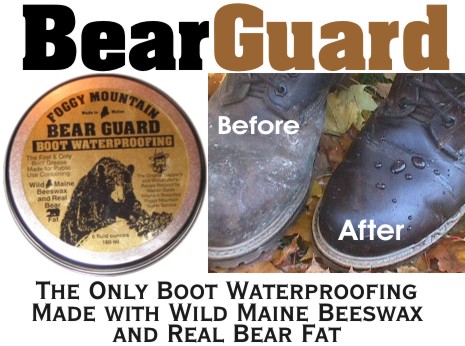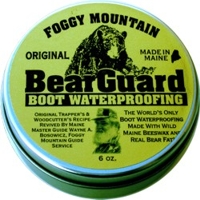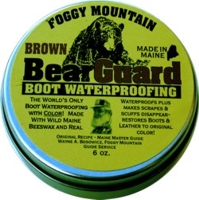 Back along when the American wilderness was really wild, a man's boots had a lot to do with his survival. Boots had to last for years and keep his feet warm and dry. For guides, trappers, woodcutters and hunters in the North Country, that meant using a recipe of bear fat and beeswax to keep those boots dry and the leather healthy. Now we're not talking about leather waterproofing wax made of chemicals mixed up in some fancy lab by some guys who've never seen a cedar swamp. We're talking about men using what nature gave them and coming up with natural leather waterproofing wax that really worked. That's what Bear Guard leather boot waterproofing wax is all about, wild beeswax and real bear fat - there's no more natural way to preserve, protect and soften your leather than by waterproofing boots with beeswax. That's why we revived the old recipe. After all, if it ain't broke...don't fix it. Waterproofing leather boots with beeswax has never been easier with our leather boot waterproofing products.
Bear Guard Beeswax & Bear Fat Boot and Leather Waterproofing Products. BearGuard is the World's Best leather boot waterproofing wax because it works with leather in a very natural way using wild Maine beeswax and real bear fat. Bear Fat is also known as Bear Grease and together with natural beeswax combine to be best leather boot and shoe waterproofing ever developed.
Leather is waterproofed in two ways: The best way is how BearGuard works, by creating a shield in which water will not penetrate and the other is by working with the leather to restore many of the natural waterproofing characteristics the leather had when it was living skin. The other way is to create a chemical moisture barrier using Silicone and a combination of oils and waxes like paraffin or and mink oil. The problem with silicone comes in three areas: the first is buildup and cracking of silicone over time, the second is the potent chemistry of some of the solvents frequently used to carry and disperse the silicone and their effect on leather, laces and stitching, and the third is its durability. Silicone treatments just do not last. BearGuard is made from wild Maine beeswax and real bear fat...there's more naturally compatible with leather. BearGuard revitalizes leather while providing incredible waterproofing qualities. Users of Bear Guard find it distinctively different than any other leather boot waterproofing wax they have ever tried. You will too! Browse our bear grease for sale below.
Now Available in Black & Brown - the World's First Beeswax Waterproofing for Boots that Waterproofs & Restores Scuffs and Scrapes to Original Color!
"Grew up in northern Maine and never know a season without a tin of your bootgrease and now I live and work in the Oklahoma oil fields and have turned my okie friends on to Maine's own boot grease and they use it on all their leather from boots to saddles. Cowboys have a lot of leather and they love the Maine bear grease!"
Joshua S. - Oklohoma
I was really glad to find this product online, I used up the very last Bear Guard I had this year when the spring thaw flooded the barn, so I will be grateful to have a replacement tin. Have a great week, thanks for the customer service
John Walker
Your BearGuard waterproofing is almost unbelievable! Any product with bear fat sounded like serious business and that thought was completely right. While we are short of cedar swamps in Philadelphia, we do have ankle deep water at the end of sidewalks and slush in general. I cold-rubbed my Frye boots twice on consecutive nights, toothbrushing the seams where sole meets shoe proper, then polished them after drying about 8 hours.
Last weekend, I was simply blown away (almost literally in a good storm) by the insulation power of your product: not only were my feet not wet- they were warmer than they had been at the same temperatures a few weeks before in upstate New York over Christmas (I only wear an ankle sock).
Today, I was trudging through city-slush and my foot plunged several times into deep corner-water. Not a drop- no deep icy feeling of water penetration- at all. The clerk where I ended up this morning said to me, "You made it", and thinking now- that would have been the perfect opportunity for the cheesy commercial- looking at the camera and holding up a tin, "Not without my BearGuard".
Thank you and congratulations,"
Mason Brown
For over a year now I have kept my eyes open at L.L. Bean, Kittery Trading Post, and at all the other stores I frequent in Maine when hunting, fishing, and sightseeing.I need your help in locating more "Bear Guard Boot Waterproofing" (Beeswax and Bear Fat 6oz. containers). My last container is almost empty and I write to you worried you will inform me it is off the market. Bear Guard is the best product for field use in this country.Any information on your product would be most welcome...
D.J. - Weymouth, MA
Approximately ten years ago, while attending a sportsman's show I purchased several tins of your "Bear Guard". I have found it to be a wonderful product in weather-proofing leather boots. I have, unfortunately just finished the last tin and have been unable to find it in any store or catalog. I and others have been looking whenever possible but to no avail. Hoping that your product is still manufactured could you provide me with a list of possible retail stores where it might be purchased or in lieu of this could it be obtained directly from you?I look forward to hearing from you with great hope and thank you in advance for your time and effort.
K.J.M. - Spring City, PA