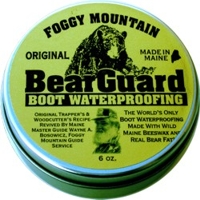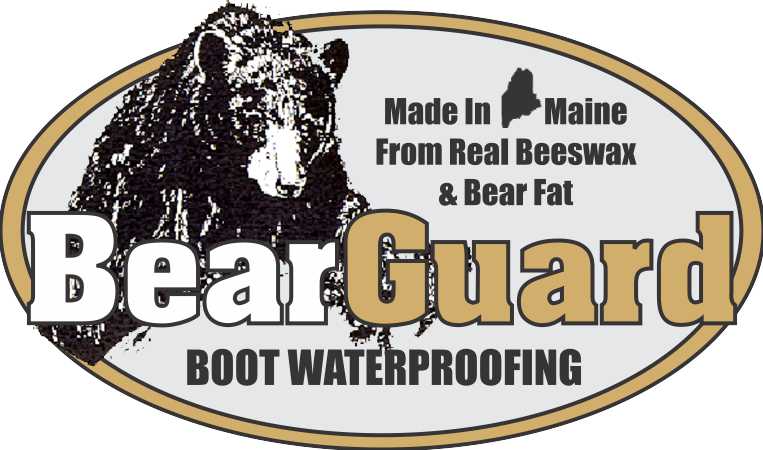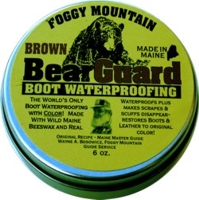 Back along when the American wilderness was really wild, a man's boots had a lot to do with his survival. Boots had to last for years and keep his feet warm and dry. For guides, trappers, woodcutters and hunters in the North Country, that meant using a recipe of bear fat and beeswax to keep those boots dry and the leather healthy. Now we're not talking about leather waterproofing wax made of chemicals mixed up in some fancy lab by some guys who've never seen a cedar swamp. We're talking about men using what nature gave them and coming up with natural leather waterproofing wax that really worked. That's what Bear Guard leather boot waterproofing wax is all about, wild beeswax and real bear fat - there's no more natural way to preserve, protect and soften your leather than by waterproofing boots with beeswax. That's why we revived the old recipe. After all, if it ain't broke...don't fix it. Waterproofing leather boots with beeswax has never been easier with our leather boot waterproofing products.
Bear Guard Beeswax & Bear Fat Boot and Leather Waterproofing Products. BearGuard is the World's Best leather boot waterproofing wax because it works with leather in a very natural way using wild Maine beeswax and real bear fat. Bear Fat is also known as Bear Grease and together with natural beeswax combine to be best leather boot and shoe waterproofing ever developed.
Leather is waterproofed in two ways: The best way is how BearGuard works, by creating a shield in which water will not penetrate and the other is by working with the leather to restore many of the natural waterproofing characteristics the leather had when it was living skin. The other way is to create a chemical moisture barrier using Silicone and a combination of oils and waxes like paraffin or and mink oil. The problem with silicone comes in three areas: the first is buildup and cracking of silicone over time, the second is the potent chemistry of some of the solvents frequently used to carry and disperse the silicone and their effect on leather, laces and stitching, and the third is its durability. Silicone treatments just do not last. BearGuard is made from wild Maine beeswax and real bear fat...there's more naturally compatible with leather. BearGuard revitalizes leather while providing incredible waterproofing qualities. Users of Bear Guard find it distinctively different than any other leather boot waterproofing wax they have ever tried. You will too! Browse our bear grease for sale below.
Now Available in Black & Brown - the World's First Beeswax Waterproofing for Boots that Waterproofs & Restores Scuffs and Scrapes to Original Color!
"Grew up in northern Maine and never know a season without a tin of your bootgrease and now I live and work in the Oklahoma oil fields and have turned my okie friends on to Maine's own boot grease and they use it on all their leather from boots to saddles. Cowboys have a lot of leather and they love the Maine bear grease!"
Joshua S. - Oklohoma