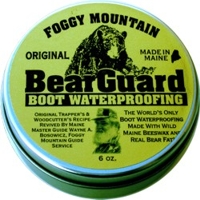 Look at those black work boots of yours. Sure, they need to be waterproofed, but what about those scuffs and scrapes? Now you can waterproof your boots and restore their appearance too. BearGuard black leather restorer is the only leather waterproofing wax that will both waterproof your black boots, shoes, and other leather stuff and cover up those scrapes and scuffs and generally make you more presentable, too! If you want the World's Best Leather Waterproofing plus put a little color in your life, BearGuard black boot waterproofing wax is for you. Packed in a big fat 6-oz. tin.
"My father recommended it and said this product was the best boot product
ever. I tried the black on my police duty boots. It softened and waterproofed
my boots wonderfully. My family now uses it on all our barn and hiking
boots.Thanks." Andrew D.