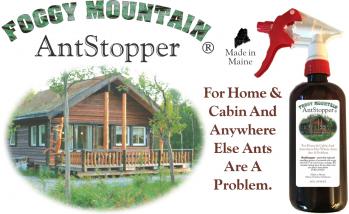 Did you know thousands of ants can live in a single colony? Those ants need food and that's why they invade your house, camper, deck, and porch. So how do you get rid of them and keep them away? NEW AntStopper is the all-natural, safe, effective way to stop the ant invasion. Just spray this natural deterrent for ants liberally in the areas you don't want the ants. Apply weekly until your ant problem is gone. It's that simple! AntStopper all-natural ant repellent spray is safe for use inside and outside and will not harm pets.
How does it work?
The unique formula in AntStopper ant defense spray disrupts the pheromone trails that the scout ants lay out as pathways to food sources for the rest of colony. The scent of AntStopper all-natural ant repellent spray confuses the ants and they have to find food somewhere else! Keep ants away for good with AntStopper.
Use this natural ant deterrent in your house, camper, outside eating areas, boats and anywhere else you don't want ants!