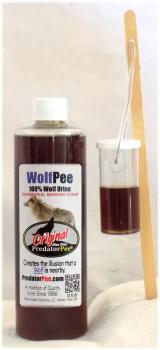 PredatorPee 12 ounce bottle of 100% Pure Wolf Urine combined with a 10 pack of our weather proof 33 Day Dispensers at a great price! Hang the dispensers every 10-12 ft from fences, trees, branches, shrubs etc using the included twist ties or use the ties and provided ground stakes. Fill with about an ounce of "wolf pee" to create a long-lasting outdoor animal repeller "pee-rimeter" that is protected from wind and rain - Big Savings when you buy multiples! Use our 12 oz. wolf urine and dispensers to prevent, stop, repel or get rid of:
Coyotes, Cats – Feral and Domestic, Foxes, Bobcats,
Mule Deer, Elk, Moose, and Bear. Wolf scent is great for protecting your chickens from foxes and coyotes!
The Concept – How Much You Need – How to Use It
"Please overlook email requesting returns. I had not noticed the discount on the receipt and I thank you very much. I am thrilled with the outcome. Using only 2 of the dispensers the coyote problem was taken care of immediately. It was remarkable and I'm spreading the word." Jane O.