Visual deflection netting keeps hawks away from your chickens. Hawk Stopper netting is not a physical barrier but extreme visual deflection at work. This full size 20 ft. by 75 ft. offers 1500 square feet of hawk protection for backyard poultry or koi ponds. Hawk Stopper chicken coop protection net uses the hawk's keen eyesight to make an easy-to-handle, inexpensive, lightweight 1500 square foot mesh look like formidable and impenetrable visual barrier. 100 feet of rope is included with this chicken coop hawk netting for easy installation.
Testimonials:
"The Hawk stopper was easy to install and has done the job in protecting our chickens!
Thank you for providing a great product, well worth the investment."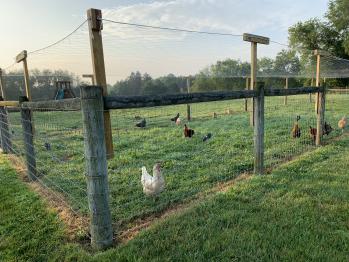 "Easy to put up and works great! Our 11 chickens are safe and healthy. I highly recommend"
"We put this up over a year ago and the hawks don't sit above or around our chicken run anymore. Due to the irregular shape of the run, we don't even have it covering the entire run area and it still works! Very happy with this product."
"This net was easy to install. I haven't personally witnessed any airborne predators being deterred by the net but, given the fact that I haven't lost any more chickens, I'm assuming it had something to do with it."