Complete indoor and outdoor all natural animal control
For Outdoors:
12 oz of Original PredatorPee® Fox Pee Fox Urine and a 10-pack of PredatorPee® Scent-Tags with Maine made wooden garden stakes that is enough to create a 100-120' "Pee-rimeter"! Also, 16 oz PredatorPee® Fox Urine YardCover Shakin' Flake Granules that covers 200 sq ft around plant, shrubs and garden containers
For Indoors:
8-Pack of PredatorPee® Fox Urine PeeShots - to drive animal pests out of attics, basements, garages and sheds!
Save $16 over Single Bottle prices!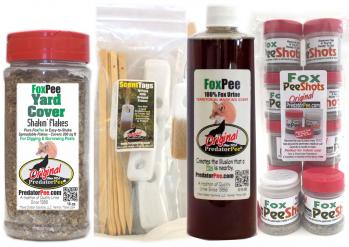 PredatorPee® Fox Pee Brand Fox Urine puts a pest animal's natural predator/prey survival instincts to work to prevent damage to your yard, garden, home, barn, shed, garage, crops, plants, trees and shrub as well as cars, trucks, campers, RV's and other vehicles and power equipment. Our PredatorPee® Fox Pee Brand Fox Urine introduces the scent of the predator to deter the following pests: rabbits, squirrels, skunks, hares, and chipmunks. When these pests smell the scent of a predator fox in the area, they want to be somewhere else and get there fast! So, if these are the pests you are dealing with, PredatorPee® Fox Pee Brand Fox Urine for rabbits, skunks, and more is the natural repellent you need. PredatorPee®- bringing Pee to the People for over 30 years!