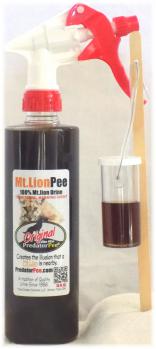 100% Pure PredatorPee® 16-oz. Mountain Lion urine spray bottle combined with a 10 pack of our weather proof 33 Day Dispensers at a great price! Hang the dispensers every 10-12 ft using the included twist ties and ground stakes. Fill with about an ounce of "pee" to create a long-lasting "pee-rimeter" that is protected from wind and rain - Big Savings when you buy multiples! This wild boar repellent also works on feral pigs, javelinas, feral hogs, collared peccary, saino and armadillos. This wild hog deterrent is safe for use around pets.
Customer Review:

"Ha ha - my husband was wondering if he peed around the perimeter if it would
keep the pigs out. I looked up "marking property with urine to deter wild
boar" and found your site as the first Google entry.
Thanks. This stuff is amazing for wild pigs. No pigs in yard for three months
- then we ran out! And the pigs were back. Thanks." A.W.